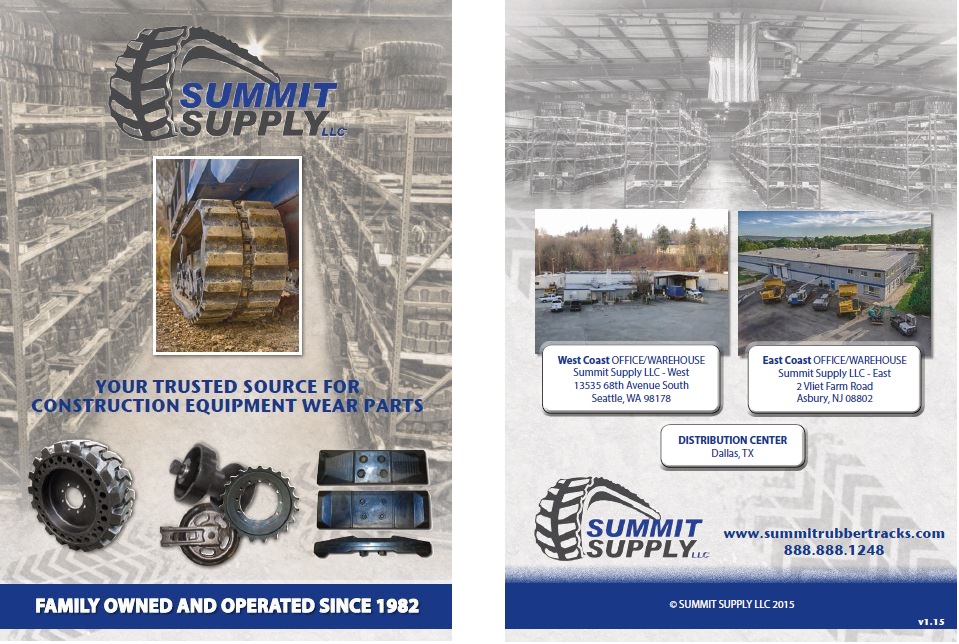 Summit Supply, LLC. is extremely excited to announce that their 2015 Full-Line Product Catalog will officially be released to the public on Monday, April 20th! This extensive 31 page catalog showcases Summit Supply's ever-expanding product and service offerings including:
Excavator Rubber Tracks
Skidsteer Rubber Tracks
Non-Metal Core Rubber Tracks
Non-Marking Rubber Tracks
Drill Rig Rubber Tracks
Crawler-Carrier Rubber Tracks
Rubber Bolt-On, Clip-On, Roadliner and Backhoe Stabilizer Pads
Solid Rubber Flat-Proof Tires
Undercarriage Wear Parts
VTS / Loegering Systems and Parts
Used Rubber Tracks
Summit Supply, LLC stocks parts for over 8000 makes/models of machines, including ASV, Bobcat, Boxer, Case, CAT, Daewoo, Ditch Witch, Gehl, Hitachi, IHI,JCB, John Deere, Kobelco, Komastu, Kubota, Loegering, Mitsubishi, Marooka, Mustang, New Holland, Rayco, Takeuchi, Terex, Toro, Vermeer, Volvo, Yanmar and many more.
Family-Owned and Operated, Summit Supply, LLC has been the trusted source for construction equipment wear parts since 1982! With locations in New Jersey, Washington State and Texas, Summit Supply provides its thousands of individual customers and dealers with the largest in-stock inventory, fastest and most reliable shipping, and most knowledgeable and helpful customer service and sales representatives in the industry.
Look for Summit Supply's new catalog in the upcoming Construction Equipment Guide !!