Ordering the wrong rubber track can be expensive and increase downtime for your machine.
Follow this step by step guide to order the right track size every time.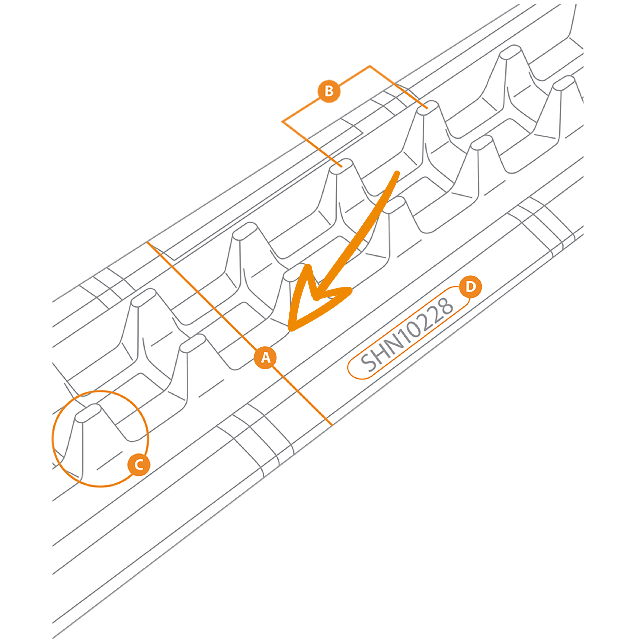 A: Measure the width or distance from edge to edge of your current track.
B: Measure the pitch of the track, the distance from the center of one link to the center of the next one.
C: Count the total number of links.
D: If you see a serial number or size code write it down.
.
Our size codes are Width (a) x Pitch (b) x Number of Links (c). Gathering these measurements ensures we can match it to the right size code.
Summit's mission is people first. Be sure to call into to a product specialist at 888.888.1248 for unmatched customer service if you have any questions.
Summit Supply is the leader for quality construction equipment wear parts. Our advanced rubber compound for rubber tracks means superior flexibility and resistance to abrasion and tears. Improved traction and enhanced surface protection with Summit's extensive selection of tread patterns. All tracks can be special ordered in non-marking compound. Hardened, forged steel drive links are tempered for unmatched strength and durability which helps ensure correct fitment and reduces vibration in any operating condition. These rubber tracks are helically wound to guarantee even strength and weight distribution. As an estimated 80% of track failures occur where multiple cords are bonded together, we eliminate those seams to ensure the entire track circumference maintains its integrity for life.
Search by make & model to find tracks to fit your machine.
Looking for excavator tracks?
Discover our track loader rubber tracks.
Explore our options for crawler carrier tracks.
#summitsupply #rubbertracks #wearparts #machinery #construction #constructionequipment #summittracks