Downtime costs you money. As construction sites open and everyone is working to catch up on lost time, we understand that you do not have time to wait when your machine is down. Summit Supply is here to get your parts the fastest way possible.

---
CALL
Give us call at 888.888.1248. Tell the representative your make and model and what part you are looking for. "I have a Yanmar VIO55-5 and I need a bottom roller asap". We will ask where you are located and find the warehouse closest to you. With six warehouses around the country in New Jersey, Georgia, Illinois, Texas, California, and Washington, Summit is sure to have a warehouse with 1-2-day shipping to your location. Same day shipping is available in areas closest to our warehouses. The representative will confirm the part with you and offer you multiple options if we have more than one option available.
If you would rather place an order online, check our blog here on how to find the parts to fit your machine.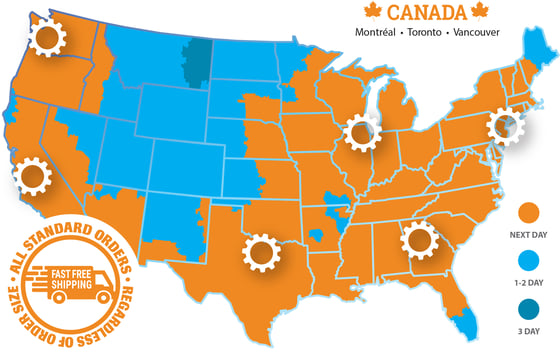 ---
ORDER
Confirm cost, payment details, and shipping information. We will process the order and ship it out same day if placed by 3pm local time. Free shipping on any size order to a commercial address.
---
MACHINE IS UP AND RUNNING
Your order will arrive in most cases in 1-2 days and you will be back up and running. Whether it is top rollers, rubber tracks, solid tires, idlers, or rubber pads, Summit provides convenient ordering and quick shipping when your machine is down.
---
Use our resources if you would like more guidance to ordering construction wear parts.

Tips on Buying Used Rubber Tracks
Need a Rubber Track? 4 Steps to Ordering the Right Track
Tread Pattern Terrain Guide : What Tread Pattern Do I Order?
Summit Supply is the industry leader for quality construction wear parts. Rubber tracks, rubber pads, solid tires, steel chains, undercarriage, and over the tire tracks are some of our product lines. Our mission is people first and we give unmatched service to our customers. Our products ship from 6 different warehouses around the country and all standard orders ship free. Orders ship same day if placed by 3pm. One to two-day delivery to 97% of the continental United States. Explore our product lines or give us a call at 888.888.1248 with any questions.
#summitsupply #rubbertracks #wearparts #machinery #construction #construction equipment #summittracks #summittracks