Summit Supply stock smooth solid tires without aperture holes and treaded solid tires options with aperture holes. Read all the specifics about aperture holes and the affect it has on ride and performance.
Aperture holes were added to solid tires to provide a cushion of air in the tire. This cushion of air absorbs some of the vibrations during operation of the machine and makes the ride more comfortable for the operator. They can both promote a smooth and a more cushioned ride. Solid tires with aperture holes give a ride that is like an air tire yet gives the benefits of no flats of a solid tire.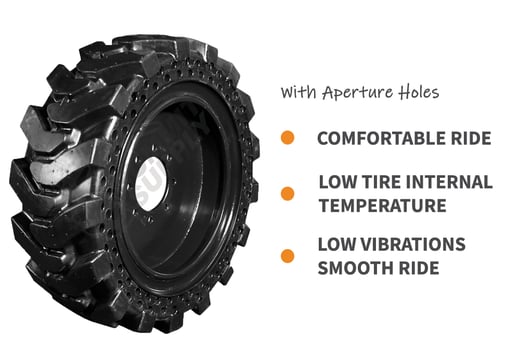 Internal temperature with solid tires can be an issue as the machines are operating and the tires are in use. High temperatures can take a toll on the tires and decrease their lifespan. Aperture holes allow tires to run at a cooler temperature as the holes allow for air to pass thru. The holes provide a way to release heat during operation and thus increase the lifetime of the tire.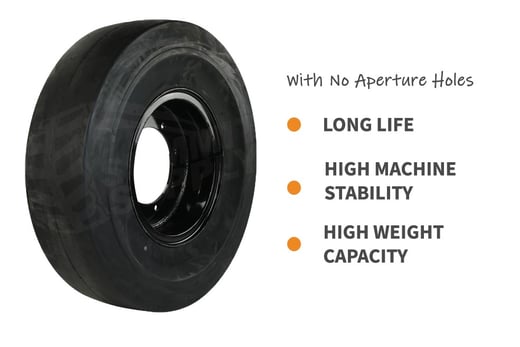 Solid tires with aperture holes have to be replaced once they have been worn down to the aperture holes. Tires without aperture holes however can be worn down even further leading to a longer life and lower replacement.
In tough working conditions, tires without aperture holes have a higher weight capacity. Fully solid tires have increased machine stability. Operating heavy loads on tires with aperture holes on machines can lead to aperture holes compressing and stress cracking.
Summit Supply is the industry leader for quality construction wear parts. Our mission is people first and we give unmatched service to our customers. Our products ship from 6 different warehouses around the country and all standard orders ship free. Explore our product lines or give us a call at 888.888.1248 with any questions.
#summitsupply #rubbertracks #wearparts #machinery #construction #constructionequipment #summittracks #solidtires #flatprooftires