Tires play a very important role in the efficiency of construction equipment. Construction time constraints can be very rigorous. When purchasing tires for your machine, a lot of options exist in the market. The question arises: foam filled, air filled, or solid tires? Here we explore the benefits of solid flat proof tires.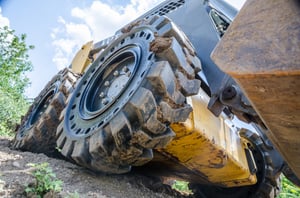 The flat proof solid rubber tire has a specially designed rubber content that provides a high resistance to cuts and abrasions with a high tear strength. On air tires or foam filled tires the rubber is much softer resulting in a shorter life span. Summit's AP-EX solid tires last 3-4 times longer than standard air-filled tires and Summit's VERT-EX solid tires last 2-3 times longer than standard air-filled tires (when used for the same application). Solid rubber tires mean downtime due to flat tires is eliminated and job productivity is increased.
Solid rubber tires will add an approx. 800 pounds to your machines weight over typical pneumatic tires. The increased weight of solid rubber tires stabilizes the machine by lowering the center of gravity.
No special equipment is needed for the installation or removal of flat proof tires. With a no flat guarantee, these tires are easier to maintain than any other option.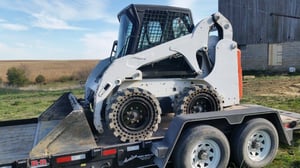 The introduction of aperture holes has revolutionized the solid rubber tire. It allows for a smoother ride for the operator and cuts down on shock related damage to the equipment. The most effective design is the two sized aperture holes. The larger hole is for comfort and the smaller hole is for stability. They are designed in such a way that they will not crush under a heavy load.
Flat proof skid steer tires have become very popular with contractors on their smaller and mid-sized skid steers. They are now used for many applications: construction sites, scrap handling, metal recycling, waste transfer stations, demolition, mining applications, landscaping operations, feedlots, farming, and snow removal. At Summit, we recommend using solid tires to improve productivity, reduce maintenance costs, increase operator comfort, and eliminate downtime due to repairs.
Summit Supply is the industry leader for quality construction wear parts. Our mission is people first and we give unmatched service to our customers. Our products ship from 6 different warehouses around the country and all standard orders ship free. Explore our product lines or give us a call at 888.888.1248 with any questions.
#summitsupply #rubbertracks #wearparts #machinery #construction #constructionequipment #summittracks #solidtires #flatprooftires