It's important to stay on top of equipment inspection to ensure operator safety. Summit aerial lift solid tires are built to OEM specifications, available in non-marking tread to keep floors clean, made from the highest quality materials, and extensively tested in diverse conditions for durability.
Keep the following tips in mind when inspecting aerial lift tires.
Tread Area
Check the tread area and sidewalls of the tire for cuts, tears, or missing chunks. When the tread area has begun to wear down, it's a sign that the tires have been heavily used and it's time for a replacement. Cuts or tears can compromise the integrity and durability of the tire.
Type of Tire
There are multiple types of aerial lift tires including air tires, foam-filled tires, and solid tires. Ensure that when tires are replaced, they are replaced with the same type of tire. A machine should have all one type of tire, never mix types of tires on the same machine. We recommend going with all solid tires. Solid tires ensure no flats or costly repairs, eliminate downtime, and last 3-4 times longer than standard air-filled tires when used for the same application.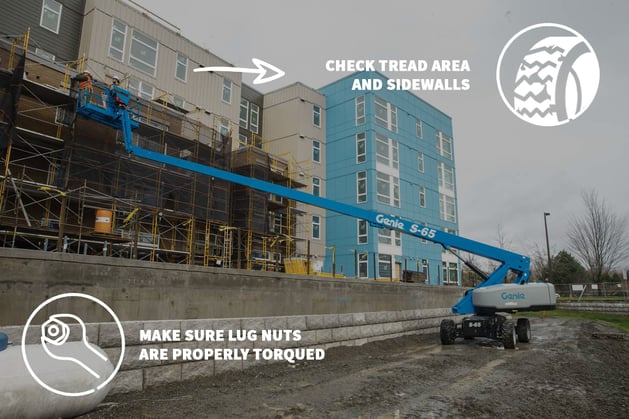 Lug Nuts
Make sure any lug nuts on the tire are properly torqued.
Rim Damage
Make sure there's no damage to the tire rim to prevent tire failure. If it's starting to break away from the rim, the tire needs to be replaced.
Static Strap
When using non-marking tires, don't forget to make sure a static strap is installed. A static strap protects on-board electronics from the static build up.
Staying on top of maintenance and inspections will ensure minimum downtime and prime operating capacity.
Summit Supply is the industry leader for quality construction wear parts. Our mission is people first and we give unmatched service to our customers. Our products ship from 6 different warehouses around the country and all standard orders ship free. Explore our product lines or give us a call at 888.888.1248 with any questions.
#summitsupply #rubbertracks #wearparts #machinery #construction #constructionequipment #summittracks
Tips on Inspection from Genie