Over the tire rubber tracks create two machines in one for more control and ease of access. There are several benefits to buying OTTs for your skid steer.
MODULAR INSTALLATION
Over the tire tracks are great for jobs with a variety of work environments as they are easy to take on and off the machine. With modular installation, they have fast installation time and easy replacement on a one-to-one basis. If work environments have a variety of different working terrains, OTTs work well to switch from a tracked to wheeled machine.
---
DURABILITY
Summit's over the tire rubber tracks are made from high-quality rubber manufactured with precision to ensure excellent bonding, optimum abrasion, and tensile strength. OTTs protect the tires on your machine and ensure a longer life for them.
The internal steel body on over the tire tracks is engineered to work seamlessly on the harshest grounds to provide prime traction and flotation. Skid steers can struggle in tough terrain with traction. Using OTTs on a skid steer means no job delays or project pauses to wait for work conditions to improve. This saves valuable downtime in construction, landscaping, and mining.
---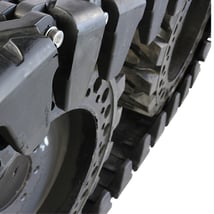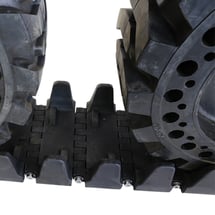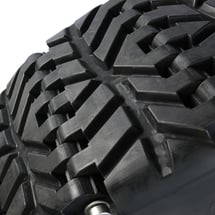 ---
TWO IN ONE
Specially designed parabolic curvature and inner surface with carefully designed tapering and material of the produces high grip on the tire of the skid steer. OTTs create two machines in one with more control and ease of access. Over the tire rubber tracks mean no investment in new equipment saving you money.
---
TERRAIN WORTHY
Over the tire tracks can be used in a variety of different terrains.
Mud – high flotation means no cracks for the mud to enter

Dirt & Grass – multi terrain tread design to ensure traction

Gravel - smooth ride due to continuous tread design

Snow – special rubber compound to guarantee traction

---
If you need assistance installing OTTs, check out our blog post here or watch the video below.
Give us call and get in touch with a product specialist at 888.888.1248 if you have any questions.
Summit Supply is the industry leader for quality construction wear parts. Our mission is people first and we give unmatched service to our customers. Our products ship from 6 different warehouses around the country and all standard orders ship free. Explore our product lines or give us a call at 888.888.1248 with any questions.

#summitsupply #rubbertracks #wearparts #machinery #construction #constructionequipment #summittracks #overthetiretracks