Summit Supply, LLC's AP-EX Solid Flatproof Skidsteer Tire is designed to perform where others fall flat! Engineered with a much denser rubber compound, the AP-EX tire is recommended for applications demanding the ultimate in toughness and durability. The bonded construction virtually eliminates the possibility of tire-to-rim slippage in even the harshest conditions.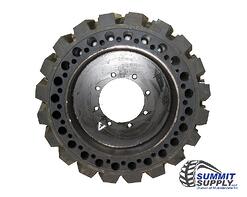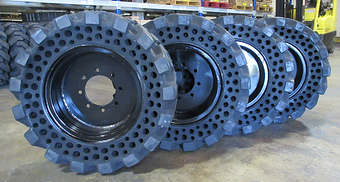 Two rows of strategically placed apertures (drilled openings) provide maximum operator comfort while eliminating the chance of tire collapse under heavy-load conditions. The aggressive tread design and overall aperture-provided flexibility combine traction and surface contact which is second to none.
The AP-EX Solid Flatproof Skidsteer Tire was specifically designed for use in applications such as Demolition, Paving and Concrete, Equipment Rental Facilities, Foundries, and Scrap Yards to name just a few.
The combined rugged rubber compound, and heavy duty steel rim provide up to a 30% greated load capacity, and have been shown to last up to 3 times as long as traditional air or foam-filled competitor offerings.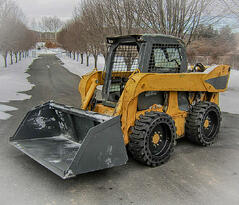 Available in both 10 and 12-inch widths, the AP-EX Solid Flatproof Skidsteer Tire is compatible with all brands of skidsteers that accept 8-hold rim configurations. As with all Summit Solid Rubber Tires, installation takes just minutes to complete!!
Additional Benefits Include:
Reduced Machine Wear and Tear
Increased Traction
Less Skipping During Turns
Elimination of Downtime Due to Flat Tires