Duraline™ rubber pads protect road surfaces and means minimal damage to work area with heavy duty hard rubber compound bonded to a steel core. With high tear and tensile strength, these rubber pads are durable in any work environment. Superb elongation and bonding strength maintains structural integrity when torqued and stretched. Extended pad life, reduced downtime, and increased value with outstanding abrasion-resistance. Rubber pads are easy to attach and detach and save in maintenance, labor, and undercarriage costs. With excellent stability on slippery surfaces, Duraline™ rubber pads decrease safety risks when hoisting and digging. Rubber pads ensure operator comfort with operation noise reduction and less operating vibration.
There are four types of rubber pads: bolt on, clip on, roadliner, and bolt hook. Each type attaches to the machine in a different way.
---
BOLT-ON RUBBER PADS
Eliminates damage to road surface
Pads attach to grouser plates using threaded studs that are installed through pre-drilled holes in the grouser plate
If you have pre-drilled holes in your pads, this is the most common option
Very secure connection, however not as easy to take on and off quickly
Matches the width of the machine
Pre-drilled holes required
Protects curbs from damage

---
CLIP-ON RUBBER PADS
Easiest option for in field replacement
Allows owner to use existing grouser shoes
Provides increased traction on hard surface
Attach directly to steel grouser shoe using a slip-on clamp at one end and a bolt-on bracket at the other end
Great for switching back and forth from steel to rubber
Heaviest, most durable pad
Warranty includes the clips and hardware
No pre-drilled holes required

---
ROADLINER RUBBER PADS
Increased stability on slippery surfaces
Reduced operator noise
Common option for Komatsu machines
Pads attached directly to the chain, eliminating the grouser shoes completely
Pads attach using threaded studs
Four bolts are centered to increase stability
Protects curbs from damage

---
ALL-NEW BOLT HOOK RUBBER PADS
Common option for CAT machines
Easy installation
Combines benefits of bolt-on and clip-on rubber pads
Reduced noise, maximized traction, and minimized vibration
Clips and bolts on the steel grouser shoe

---
Available in 200-900 millimeters, Duraline™ rubber pads are guaranteed to fit your machine. Our rubber pads are made from extreme-duty rubber compound that protects surfaces, reduces noise, increases traction, and
extends undercarriage life.
Summit Supply is the industry leader for quality construction wear parts. Our mission is people first and we give unmatched service to our customers. Our products ship from 6 different warehouses around the country and all standard orders ship free. Explore our product lines or give us a call at 888.888.1248 with any questions.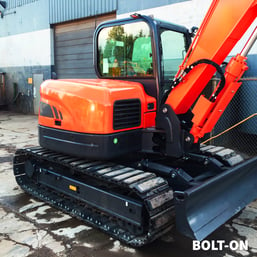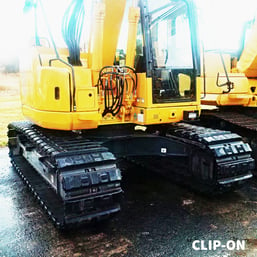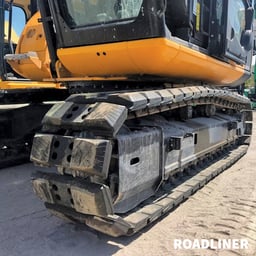 #summitsupply #rubbertracks #wearparts #machinery #construction #constructionequipment #summittracks #rubberpads