New Product Line Available Nationwide: Turf Tread Rubber Tracks
Turf tread rubber tracks are now available for purchase for your machine from Summit Supply LLC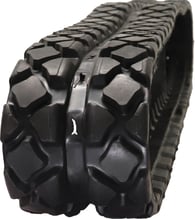 ASBURY, NEW JERSEY: Summit Supply LLC announced they have begun carrying a turf tread rubber track. This new rubber track product offers an innovative tread design for optimal traction on asphalt, gravel, grass, and dirt.
Features and benefits of turf tread rubber tracks:
Innovative tread design which provides optimal traction in varying conditions
Offers minimal damage while on grassy terrain
Engineered to guarantee longevity and durability
Designed to ensure a smooth and comfortable ride for operator with constant contact to the ground
Optimal traction on asphalt, gravel, grass, dirt
The turf tread is a great option for spring weather conditions. Give our product specialists a call at 888.888.1248 for more details on these tracks.

"Excellent service. I called and ordered tracks for our skid steers and they were delivered the next day. Minimal down time. Appreciate Summit's help." – Graham M
Summit Supply is the leader for quality construction equipment wear parts. Our advanced rubber compound for rubber tracks means superior flexibility and resistance to abrasion and tears. Improved traction and enhanced surface protection with Summit's extensive selection of tread patterns. All tracks can be special ordered in non-marking compound. Hardened, forged steel drive links are tempered for unmatched strength and durability which helps ensure correct fitment and reduces vibration in any operating condition. These rubber tracks are helically wound to guarantee even strength and weight distribution. As an estimated 80% of track failures occur where multiple cords are bonded together, we eliminate those seams to ensure the entire track circumference maintains its integrity for life. Summit offers unmatched customer service to all North America, delivery quality products with free shipping from the 6 distribution centers in the US and 3 in Canada.
#summitsupply #rubbertracks #wearparts #machinery #construction #constructionequipment #summittracks