We've partnered with Dan Weisempacher the Service Manager at Multi Machine to bring you the best tips on installing rubber tracks! Multi Machine Inc. is a premier dealer for Prinoth® tracked crawler carriers and supplies a wide array of construction equipment for sale or rent. Dan has years of experience in the rental industry installing tracks every day.
His best advice is "Don't over think it! It is the same basic concept as removing or installing your bicycle chain, or lawn mower belt, just a lot heavier and not as easy!"
Start by raising the machine JUST high enough for the cleats to clear the bogie frame. A common mistake is raising the machine too high allowing excessive amounts of slack on the bottom. This makes it difficult to get the slack where you need it.
Read the owner's manual thoroughly and safely support the machine where the manual indicates.
Determine whether your machine is tensioned with hydraulic pressure or grease.
HYDRAULIC PRESSURE | Release tension by locating your machines release valve
GREASE | Carefully loosen the fitting to release the grease pressure. Once you have relieved most of the pressure and grease, it may be easiest to completely remove the fitting. Removing the fitting ensures your tensioner is 100% collapsed.
To remove rubber tracks, maneuver the rubber tracks from the rear idler so you can pull it forward off the sprockets. When removing heavier tracks, you will need a machine to help lift and maneuver.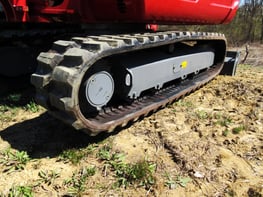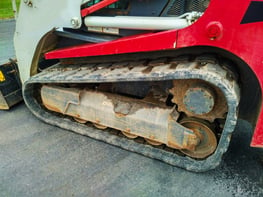 To install rubber tracks, follow the same steps but in reverse. Once you get the track started on the sprocket, you can use the machine's drive to walk it onto the idler the rest of the way, using wood to allow it to roll onto the idler.
"Each machine has its own little tricks and steps to make up the process depending on size, undercarriage style, and type of machine. But it is always usually the same basic processes."
When your rubber tracks are off the machine, this is a great opportunity to check your undercarriage for wear.
Summit Supply is the industry leader for quality construction wear parts. Our mission is people first and we give unmatched service to our customers. Our products ship from 6 different warehouses around the country and all standard orders ship free. Explore our product lines or give us a call at 888.888.1248 with any questions.
#summitsupply #rubbertracks #wearparts #machinery #construction #constructionequipment #summittracks