Our advanced rubber compound for tires means superior flexibility and resistance to abrasion and tears. Flatproof tires eliminate costly repairs with no downtime. All tires are guaranteed to fit your machine and are backed by our industry- leading manufacturer warranty. Solid tires improve productivity, install easily, and increase operator comfort. Available in treaded or smooth tread pattern options, any Summit tire can be ordered in non-marking compound. Treaded options have a self-cleaning design and a thick 2-inch tread for aggressive bite. Non-treaded smooth options are ideal for scrap yards, municipal waste facilities, and paving contractors. Don't waste valuable time changing tires with our flatproof tires.
Ordering the wrong size solid tires for your skid steer can increase downtime and costs for your machine.
Follow this step by step guide to order the right size tire every time.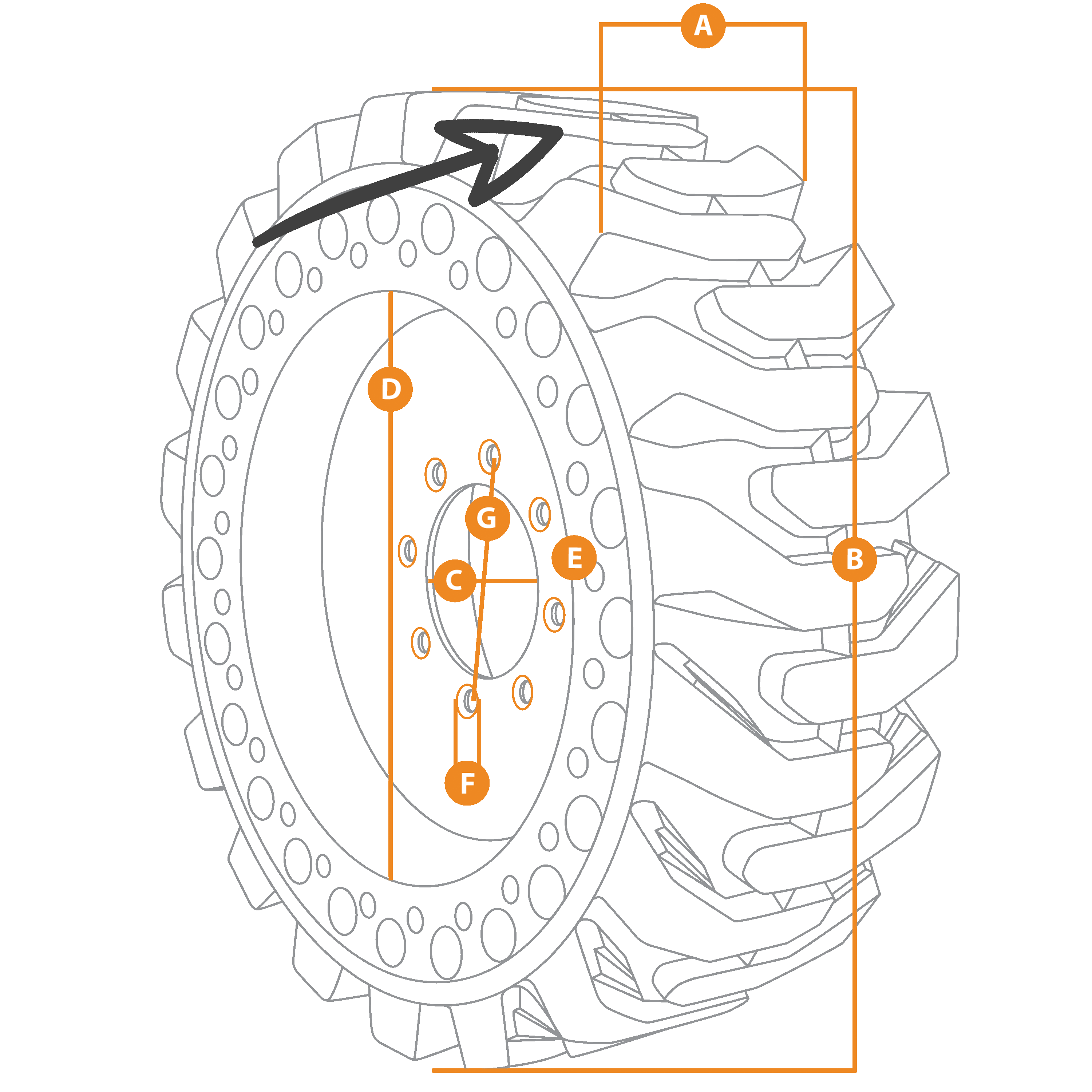 A : WIDTH – Measure from one side of the tire to the other, at the widest part.
B : HEIGHT – Measure the distance between the top and the bottom of the tire.
C : HUB DIAMETER – Measure from one side of the hub to the other, at the widest part.
D : RIM DIAMETER – Measure from one side of the rim to the other, at the widest part.
E : NUMBER OF BOLT HOLES – Count the holes (for example the graphic shown above has 8).
F : BOLT HOLD DIAMETER – Confirm the diameter of the bolt hole.
G : STUD CENTER – Measure from the center of a stud to the center of the one across from it.
Summit's mission is people first. Be sure to call a product specialist at 888.888.1248 for unmatched customer service if you have any questions.
Explore our flatproof tire product line.
Search by make & model to find construction wear parts to fit your machine.
#summitsupply #rubbertracks #wearparts #machinery #construction #constructionequipment #summittracks #solidtires #flatprooftires