These are some FAQs we get regarding products, policies, and programs.


IS A HEAVY-DUTY TRACK WORTH THE COST?
Yes. The heavy-duty track has 20-30% more material for 10-20% more in cost. This extra material produces in excess of a 30% increase in product life.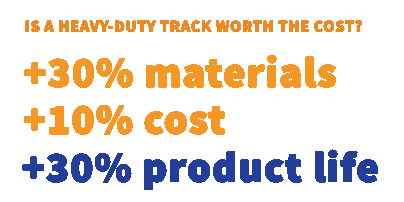 HOW DO I KNOW WHICH PART GOES WITH MY MACHINE?
Search by make and model on our homepage, and check to see if the part is listed as fitting. You can also confirm part numbers by calling us at 888.888.1248 and talking with a product specialist. Parts are GUARANTEED TO FIT YOUR MACHINE.



WHICH TREAD PATTERNS FOR MY TRACK LOADER WORK BEST IN SPECIFIC ENVIRONMENTS?
Reference our tread pattern blog post for details on what treads work best in what terrains.
WHAT ARE YOUR RUBBER TRACKS MADE OF?
Our rubber tracks are a blend of natural and synthetic virgin rubber. They're manufactured with continuous steel cording and hardened steel links for durability and longevity. We do not use any recycled rubber.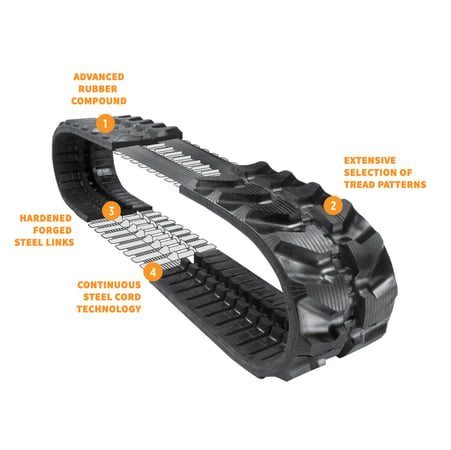 TO ENSURE SAME DAY SHIPPING, ORDERS SHOULD BE PLACED BY WHAT TIME?
Place your order by 3pm, by location, or by the time the shipping trucks leave.
HOW FAST CAN I GET MY ORDER AND CAN I TRACK IT?
Standard orders deliver in 1-2 days to 97% of the continental U.S. with FREE freight on any size order! To locate the shipping company's tracking number, simply reference your invoice or receipt.
A AND B TIRES: WHICH SIDE OF THE MACHINE DO THEY GO ON?
It usually doesn't matter which side the A and B tires go on if they are on opposite sides! They're often a 70:30 offset.
HOW DO I MAKE A CLAIM ON A WARRANTY?
In the rare event you need to submit a warranty claim, take a minimum of three pictures: the serial number, the entire product, and the failure. Email them to warranty@summittracks.us and your rep. Include the date the product was purchased, the date it was installed, and any other details you feel are pertinent to your claim.
HOW DOES RECYCLING WORK?
We accept tracks for recycling at our New Jersey, Texas, and Washington facilities. Once you know the quantity and width of the tracks, please contact us for details and costs prior to shipping them. Keep in mind that all tracks must be strapped to a pallet and we do NOT accept non-metal core tracks or tires.
SHOULD I MOUNT TRACKS IN A CERTAIN DIRECTION?
Most tracks are non-directional. In the event they are not, the side of the track is marked with arrows.


Let's talk at 888.888.1248 if you have any more questions.
#summitsupply #rubbertracks #wearparts #machinery #construction #constructionequipment #summittracks